The SOHO Advantage
Fixed price
Full turnkey
Premium inclusions as standard
SOHO Living Melbourne's Leading Townhouse and New Home Builder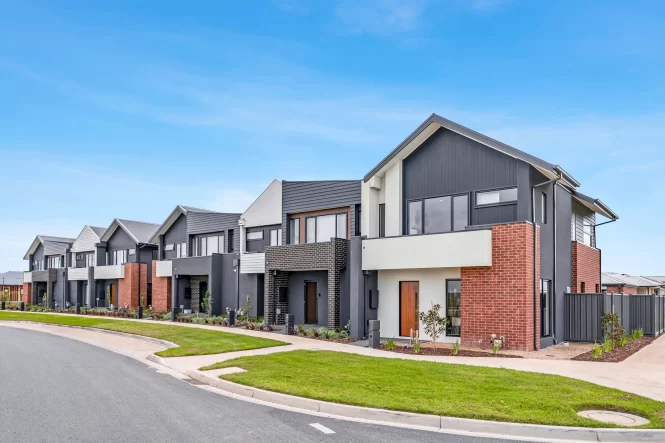 Why SOHO Living?
When you choose SOHO Living, you're assured a high standard of service that is unparalleled in the industry. We pride ourselves on the exceptional quality of our designs, builds and finishes that are guaranteed to exceed the expectations of home buyers every single time.
By investing in a SOHO Living home, you're investing in your best possible future. With a wide selection of townhouses and house & land packages available, we can make your home ownership dreams a reality. Find out for yourself why SOHO Living are one of Australia's fastest growing builders and experience firsthand the SOHO Living difference.
Find out more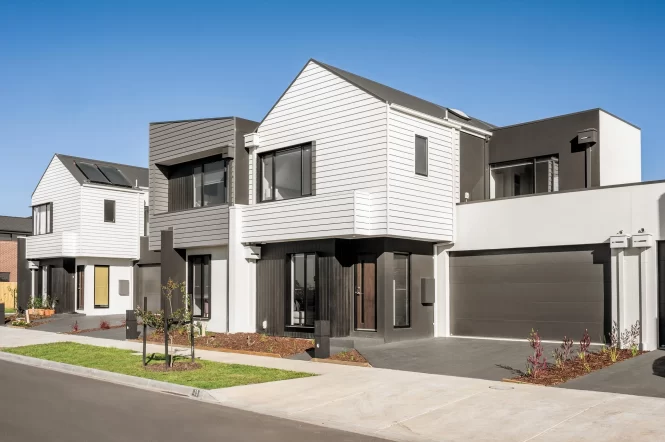 Our Developments
Our mission is to create dynamic communities where people can grow and thrive. At SOHO Living, we think outside the box to create unique, stylish, and sustainable homes in neighbourhoods built to last. Our commitment to community, customer service, and constant improvement means there's a SOHO Living development for everyone, no matter your stage in life.
Find out more
Purchaser Testimonials
Marcus
Amazing House and Service
Was an amazing experience start to finish with SOHO, purchasing the house with Troy was simple and quick and the price was very reasonable. The site supervisor, Jorge, was great to communicate with, always gave quick and prompt responses and gave updates frequently on how the build was going. Definitely suggest purchasing a house through SOHO Living and highly recommend dealing with Jorge and Troy.
Jonathan Licha
Wonderful home and team were fantastic!
The build was managed so well and I recieved regular updates from the team along the way.
The build quality is incredible and am really happy with the final outcome of my new home.
George was a fantastic building supervisor and made the whole process smooth. He was great to deal with and clearly answered all my questions. He was prompt and regularly provided me updates throughout the build. I definitely felt like I was in good hands.
Sherwin Gagajena
The product has excellent strong features!
The products are very great! High quality of brand when it comes to appliances. Great communication with the Soho Living Staff. We really love it! Thanks Soho Living for a great job done!
Mark
Amazing home, great communication
Working with SOHO homes to build my new home was smooth from the first email communication to enquire about an advertised home ad through the build to the key handover.
Gabriel
Excellent customer service
As a sales consultant, Jaime's patience is second to none. She is a great listener. She was more than happy to work on a beautiful turnkey home package for my challenging block size in south- east Victoria and amazingly meeting my budget requirement too. She is truly a valuable asset for Soho living.
Lauren
Fantastic build – quality homes
Build was managed well with updates being given regulary paticulary when the construction industry was facing difficulties. The product and the home itself is stunning, SMEG appliances, woodwork around windows, beautiful stone benches AAA++++
Read more
Jackson S.
Genuine Care
My experience with SOHO living and Jamie Cooper has been exceptional. I had started searching for fixed price townhouses about 6 months ago while I saved for my deposit. Since Jamie picked up the phone and met with me she got the ball rolling on a few different locations that suited my investment requirements. I can't thank Jamie and SOHO Living enough for making this process as simple, transparent & stress free - particularly for a first home buyer!
Tania Falzon
Stress Free
The process was seamless from beginning to end, it really was a turn key home. Very happy with the quality of build and fixtures. Communication from Soho was excellent- no complaints at all. A very positive experience.
Read more
Tenisha Songvilay
SOHO Living Townhouse
We understood that were many delays due to covid with our house and land package. However, once the building process began we were always given regular updates and felt very included in the process through tours and whatnot. We are very happy with how everything has turned out in our cute and stylish townhouse.
Read more
Mony Sarem
So glad we picked this company
We are first home buyers. Our Sales Consultant was so patient and took us through the entire process. She was professional and genuine comparing other sales agent from other companies.
Jeanu S
Good experience
Jorge managed my build and he had open lines of communication and was clear and honest throughout.

Any issues were solved promptly and he and soho made my first building experience a pleasant one. Definitely recommend.
Sarah S
Thank you!
We recently finished our build with Soho Living. Our site supervisor Jorge was a pleasure to deal with from start to finish. He was approachable and communicated with us each step of the way and always answered any questions we had. Thank you Jorge for making our build as smooth as possible.
I would also like to say a massive Thank you to Emmanuela our building coordinator who was always so lovely, responded to phone calls and emails in a timely manner. Emmanuela's communication was second to none, she always went above and beyond to answer any queries or concerns. Thank you again Em for you're amazing customer service!
Rachel and Heidi were also a pleasure to deal with.
Rebecca S
Townhouse purchase
An overwhelming experience was made so much easier by the assistance provided by Gunal - Sales Consultant. The purchase of my townhouse was smooth. Gunal was there every step of the way, to ensure I understood the process. Thank you Gunal :)
Nick mamo
Great service and experience
Jorge was a great building supervisor to deal with. Great communication and easy to talk to. Was always happy to answer any questions we had about our build. Would recommend